Friends who often buy cakes will know that cakes are big and small, there are various types and flavors, and there are many different sizes of cakes, so that we can use them on different occasions.
Usually, cake boards also come in different sizes, colors and shapes. In this article we will introduce the most commonly used sizes of cake boards, the most commonly used colors of cake boards and the most commonly used shapes of cake boards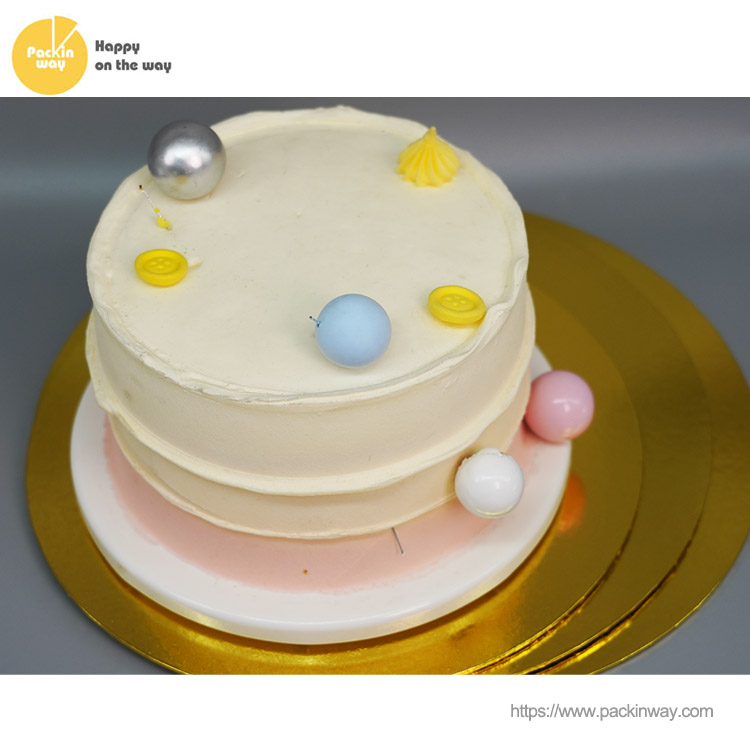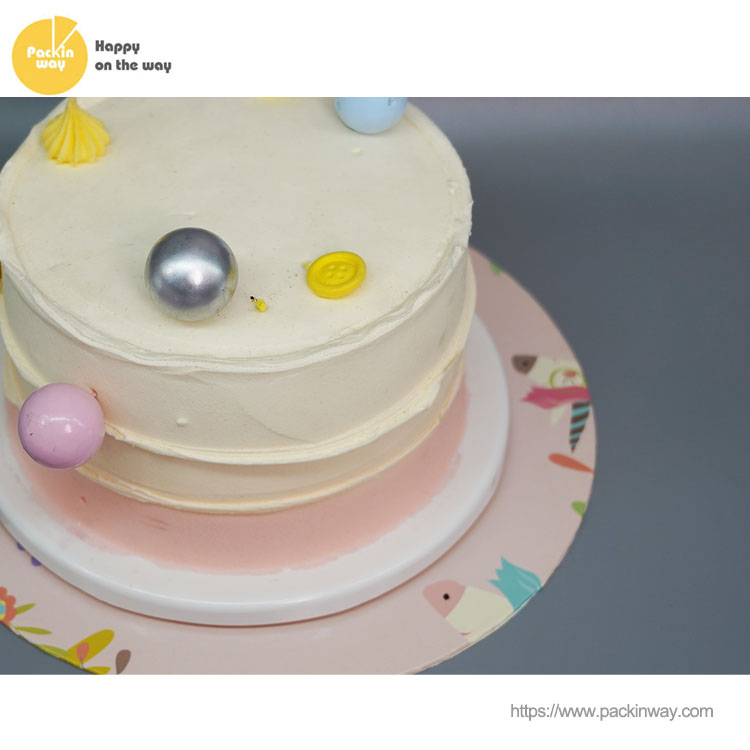 If you want to do it yourself, Packinway gives you the following suggestions: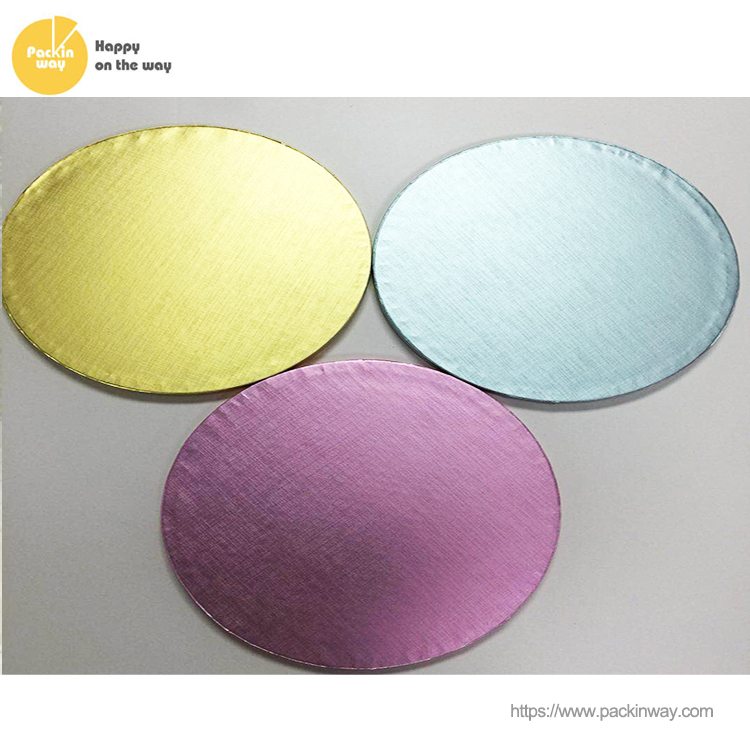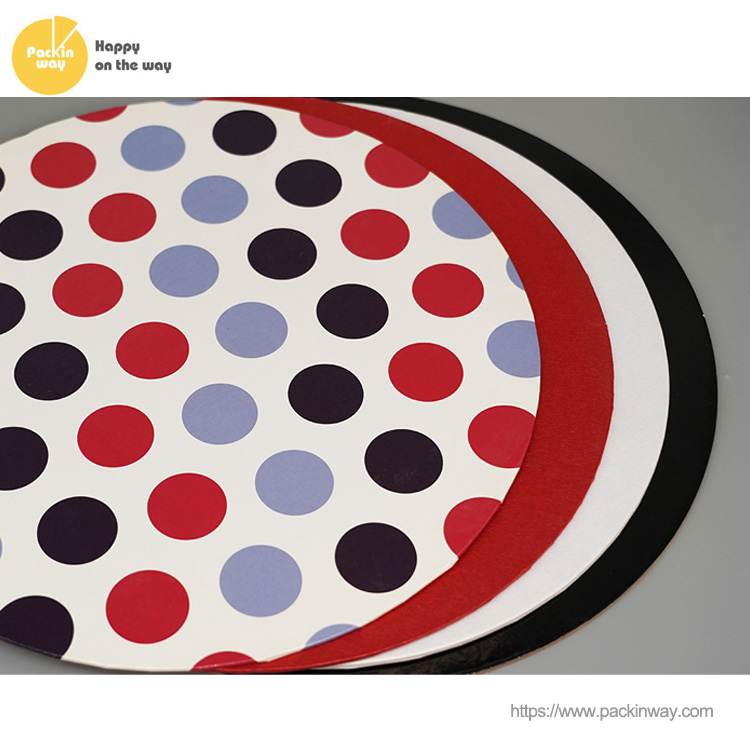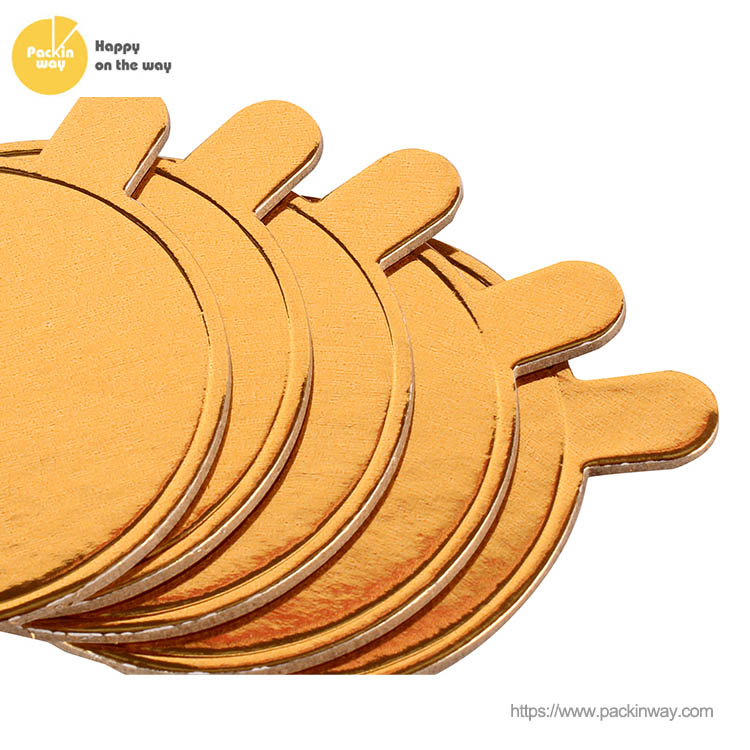 First, you need to prepare some materials. You'll need a piece of cardboard of the right size, preferably 4mm thick. You'll also need a pen, a knife, and a measuring ruler.
The first step is to measure and cut the cardboard. Use a measuring ruler to measure and mark a square on the cardboard according to the size you want your cake to be. Then, use a knife to cut the cardboard along the marked line. If you want a round cake base, use a long piece of string and a pen to draw a circle, then cut the cardboard along the circle.
The second step is to cover the cardboard. You can cover the cardboard with pretty fabric, wrapping paper, or other decorative materials. If you choose fabric or paper, you can place the cardboard on top of the material first, then use scissors to cut the material to the same size as the cardboard, leaving a bit of extra material to wrap around the bottom. Place the material on the cardboard and secure with glue or tape.
The third step is to decorate the cake base. You can use ribbons, satin or other decorations to beautify your cake base. Pin the decorations around the cake base, making sure they fit snugly.
Finally, your wedding cake base is complete! The process is not complicated, but it will take some time and effort. If you want a faster and more convenient way, you can also consider buying our company's wedding cake base. We offer a variety of sizes and styles of cake bases so you can find the perfect option to enhance your wedding cake.
How to Save Costs and Boost Profits by Wholesale Purchasing Wedding Cake Boards from a Professional Manufacturer
As a business or individual who is going to open a store or needs to buy wedding cake boards in bulk, cost and profit are important factors you need to consider. In this case, purchasing wedding cake boards wholesale is a great choice. Choosing a professional manufacturer for wholesale purchases can save costs and increase profits.
As a professional cake board manufacturer, we have advanced production equipment and production technology, which can manufacture high-quality wedding cake boards efficiently and quickly. Our production capacity is very strong, which can meet the bulk needs of large customers, and our prices are very competitive.
Unlike other suppliers, our focus is on quality and customer service. Our cake boards are made of high-quality materials, ensuring consistent quality and durability. And we provide cake boards of various specifications and styles to meet the different needs of customers. If customers need specific customization, we also provide personalized design and customization services.
In addition, we also pay attention to customer service. Our professional team can provide consultation and technical support to ensure customers choose the wedding cake board that best suits their needs. We also provide flexible payment methods and fast logistics services to ensure that customers can receive their orders conveniently.
When choosing a wedding cake board supplier, choosing a professional manufacturer can save costs and increase profits. When you choose our company, you can get high-quality cake boards and excellent customer service. We look forward to working with you to bring success to your business.
Make Your Special Day Even Sweeter with Packinway's Wedding Cake Boards
Choosing the right cake base is crucial when preparing for a wedding or any celebration. Packinway is a professional cake board manufacturer, we provide customers with high quality wedding cake boards. Our cake bases are not only beautiful, but durable enough to add a touch of beauty to your special day.
Our wedding cake bases come in a variety of different sizes and shapes to accommodate different sized cakes. We can also provide customized services to make cake bases according to customers' requirements. We use high-quality materials and advanced production equipment to ensure the consistent quality of our products. All products undergo strict quality control to ensure customer satisfaction.
Our services are not limited to high-quality products, we also provide fast delivery and excellent customer service. Our team processes your order as soon as it is placed and ensures you receive your product in the shortest possible time. If you have any questions or need assistance, our customer service team is here to help.
Let Packinway's wedding cake base add a touch of sweetness and beauty to your special day. Send us an inquiry now and let us make the perfect cake base for you to make your cake more beautiful and stable.
You May Need these before your order
PACKINWAY has become a one-stop supplier offering full service and full range of products in baking. In PACKINWAY, you can have customized baking related products including but not limit to baking moulds, tools, deco-ration, and packaging. PACKINGWAY aim to provide service and products to who love baking, who devote into in baking industry. Fromthe moment we decide to cooperate, we start to share happiness. 
---
Post time: May-08-2023