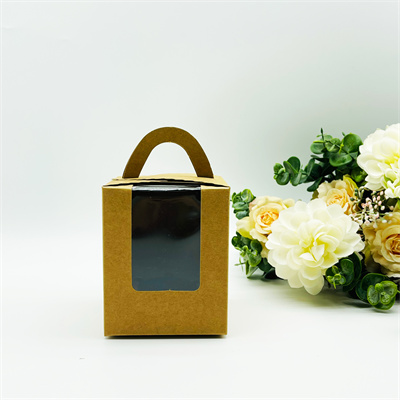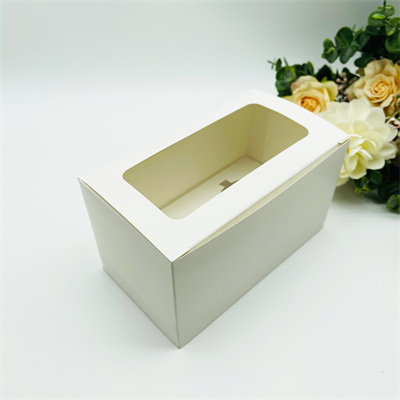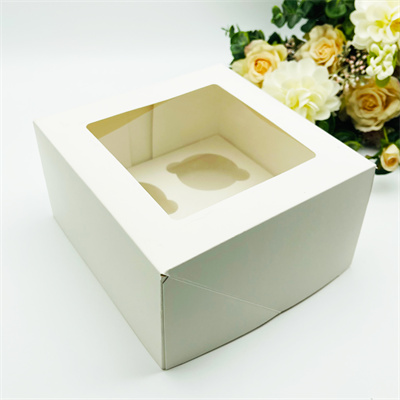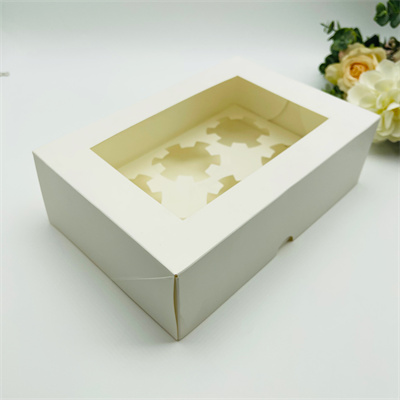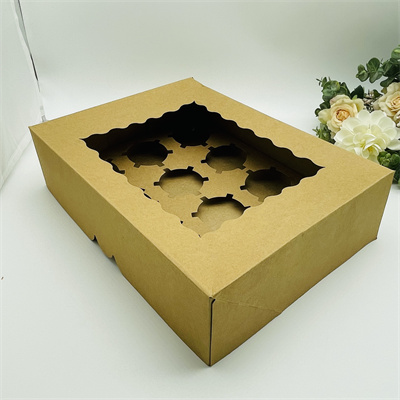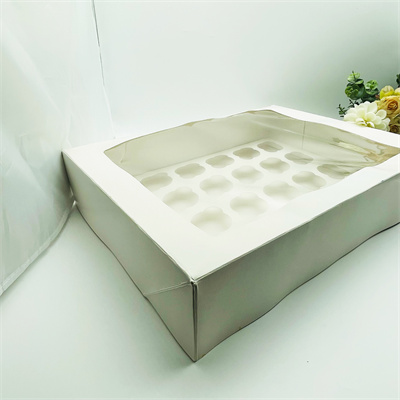 Cupcake boxes with handles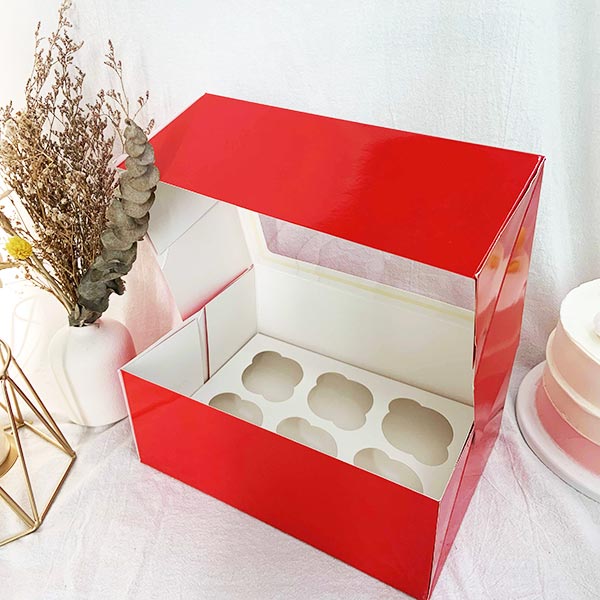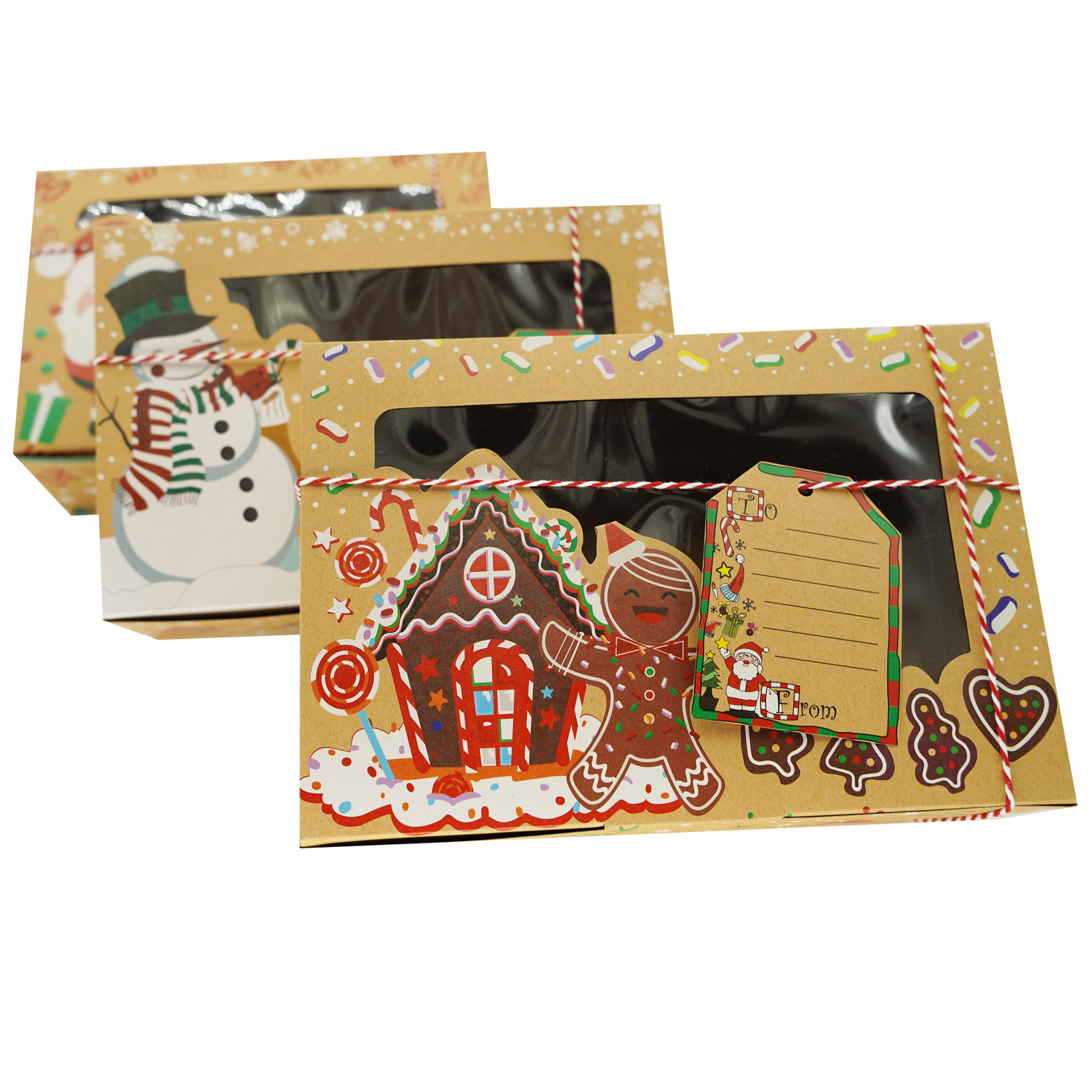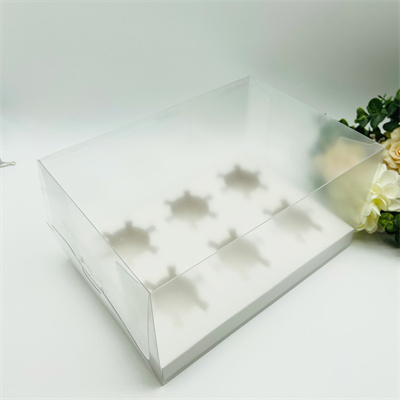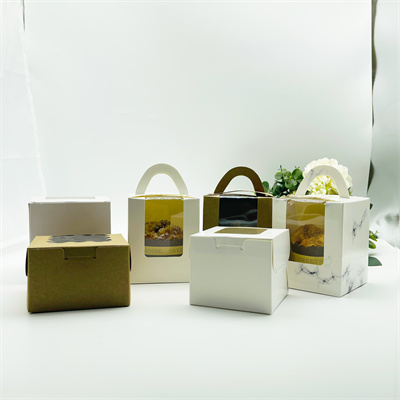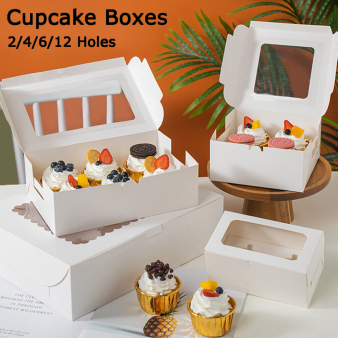 Wholesale Cupcake Box Supplies
We are a professional cupcake box manufacturer, we have 10 years of experience and are a leader in the bakery packaging industry. We are committed to creating high-quality packaging products and providing customers with the best service.
-Our cupcake boxes are made of environmentally friendly materials, which meet national standards and are processed through multiple processes. In addition to the classic white, our products also have a variety of colors to choose from. According to the needs of different sizes, hole positions and occasions, we can customize the colors and styles to meet customer needs.

-Our products pursue high quality, with good load-bearing capacity and waterproof and oil-proof performance. As a cake packaging box, it can perfectly protect the cake from deformation and damage during long-distance transportation and daily storage. At the same time, our cupcake boxes also have a good display effect, which can make your products more attractive in the market.

-Our products can be purchased in wholesale, and we provide you with flexible ordering methods and multiple price systems, allowing you to gain an advantage in the ever-changing market competition.
By cooperating with us, you can get quality assurance, cost control, efficient service and leading market value, which we believe is exactly what your business needs. We look forward to cooperating with you, if you have any questions about our products or need more detailed information, please do not hesitate to contact us at any time.
We sincerely invite you to visit our company, experience the quality of our products and services with our team, and create your products with us according to your needs and ideas.
6 Steps To Customize Cupcake Box
Any ideas for custom transparent cake boxes? No matter how special they are, our tailored solutions and experiences will help you realize your ideas and succeed.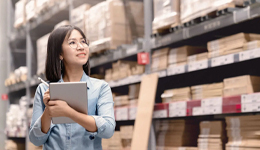 1. Determine your purchasing needs:
Tell us how many cupcake boxes you need to buy, what material and color you want, and if you need to print a specific design or logo (we have a free design team to assist you).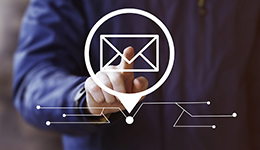 Contact a professional bakery packaging supplier and ask for detailed information about products and services, such as price, MOQ, material, samples, etc. We provide the products and services you need, and communicate with you about the delivery time, payment method and trade terms.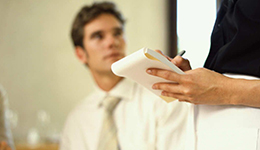 After confirming the selection, our sales staff will place an order with you, sign a contract, and guarantee the quality and delivery date. (Confirm the price, order quantity, delivery date and other specific services and terms in the contract).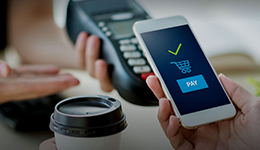 According to the contract, pay on time.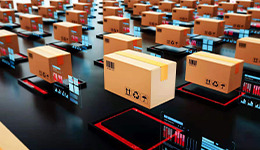 Our factory will start to arrange the production plan, arrange logistics and distribution, and deliver the goods within the specified time.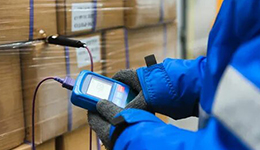 After receiving the product, please make sure that the product received is consistent with the description in the order, and check whether its quality meets your requirements. We provide after-sales protection, 100% guarantee the interests of customers.
Bakery packaging solutions tailored to your industry
Type Of PACKINGWAY® Cupcake Box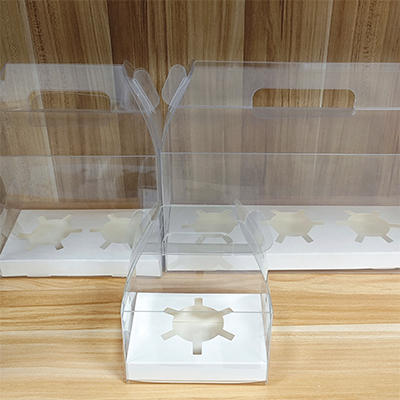 Cupcake Boxes with Various Holes
SUNSHINE PACKINWAY's cupcake box products not only have a beautiful appearance, but also have a variety of hole options. Our products can accommodate different quantities of cakes, ranging from 6 holes to 24 holes, which are very suitable for the needs of different occasions.
For individual or small events, our 6-hole or 12-hole cupcake boxes are great. And for large events or commercial occasions such as cafes, our 16-hole or 24-hole cupcake boxes are more suitable.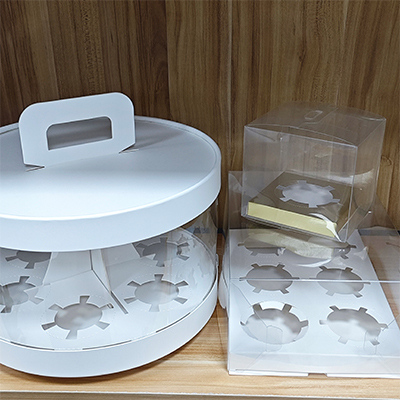 Cupcake Box Design With Window
The window design of the cupcake box breaks through the traditional pattern, not only beautiful but also practical. The window design not only allows you to see the lovely cupcakes at a glance, but also ensures the freshness and quality of the food. The cupcake boxes with window are made of high quality paper that can withstand heavy pressure and waterproof. The open top lets you add any decorations to elevate the cupcakes, and they're easy to carry.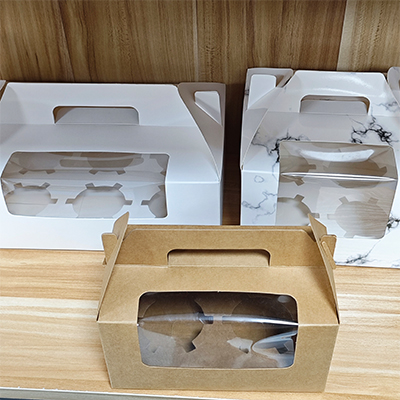 White & Kraft & Color Printing Cupcake Boxes
The combination of three materials, white, kraft paper and color printing, brings more possibilities for cupcake box design. The basic color of white injects simple yet elegant temperament into the cake box, the addition of kraft paper gives the cake box a thicker texture, and the color printing makes the cake box more attractive and visually impactful. Not only that, in terms of design, we pay more attention to details, adding exquisite cutting and pattern design, adding more lively elements to the cupcake box, so that each cake has an exclusive and beautiful container.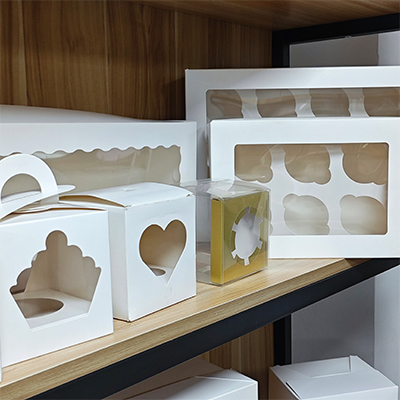 Cupcake Insert with Different Shape Designs
Cupcake inserts of different shapes into cardboard bring a whole new way of displaying our products. No longer limited to the traditional round cardboard, we have prepared lemon shapes, squares, triangles, hearts, stars and other shapes for you to make your cakes more colorful and unique when displayed. We also provide personalized customization services, you can customize unique insert cardboard according to your own needs, making your cake display more distinctive. Made of high-quality paper, these insert cards are not only beautiful and durable, but also environmentally friendly to fully protect your products.
Advantages Of Buying Custom Cupcake Boxes Wholesale:
1. Better brand recognition: With customized cupcake boxes, your products can be more easily recognized, and your brand logo can be more easily recognized and remembered in the market.
2. Strengthen your brand image: Customized cupcake boxes can make your brand more prominent and at the same time make your brand more professional, which helps to attract more customers and improve your business conversion rate.
3. Higher customer satisfaction: Customized cupcake boxes can make your products more attractive in appearance, while providing your customers with a more comfortable and good user experience, thereby improving customer satisfaction.
4. Increase your competitiveness: If your direct competitors do not have custom cupcake boxes, then you can attract more customers with lower costs and more choices.
5. A more professional image: Customized cupcake boxes can enhance your image and make your business look more professional and organized, which helps build your business's credibility and reputation.
6. Improve quality assurance: If you buy custom cupcake boxes wholesale, you can ensure the quality of the cupcake boxes through auditing and testing, providing your customers with a high-quality product guarantee.
Why Choose SUNSHIHNE PACKINWAY?
As a leading bakery packaging manufacturer in China, SUNSHIHNE PACKINWAY can bring many advantages to our partners, including:
1. Customized packaging service: PACKINWAY can provide customized packaging solutions for partners all over the world to meet your different needs.
2. High-quality products: PACKINWAY can provide high-quality Wedding Cake boxes, Cookie/Biscuit boxes, Transparent boxes, Cupcake boxes, Macaron boxes, One-piece cake boxes, and other bakery packaging products to help you improve product quality and brand image.
3. Diversified product selection: PACKINWAY can provide a full range of bakery packaging products including a variety of products in different sizes, colors, and materials to meet the different needs of you and your partners.
4. Competitive prices: As a professional bakery packaging manufacturer, PACKINWAY can provide competitive prices to help your partners increase profits and reduce costs.
5. Fast delivery: PACKINWAY can provide fast delivery time, and provide one-stop logistics service to meet the urgent needs of you and your partners.
6. Professional after-sales service: PACKINWAY can provide professional after-sales service, solve problems encountered by partners in the process of use in a timely manner, and provide solutions.
FAQ of Customer Concerns for Wholesale Custom Cupcake Box Packaging
SUNSHINE PACKINWAY needs you to provide the size, material, color, printing requirements and other information of the cake box so that we can make the most perfect cupcake box for you.
SUNSHINE PACKINWAY provides samples of existing templates, you can choose or customize according to the samples.
Of course, we can print LOGO and other services according to customer requirements. We also have a professional design team to help you design your own LOGO pattern.
We usually have MOQ, it depends on the material and printing method you choose. Please contact our sales staff for more information.
Wholesale production lead time will depend on the quantity you ordered, material, printing method and our existing production schedule. After the order is confirmed, we will provide you with the most accurate production cycle to ensure that you receive the product on time.
If you find quality problems after receiving the product, please contact us in time and provide relevant photos and information. We will do our best to help you solve the problem and ensure your satisfaction.
Yes, we provide national express and ocean logistics, etc. The specific delivery time and cost will be determined according to your delivery address and order quantity, and we will provide you with the most cost-effective and safest shipping company.
We can choose different types of paper materials according to customer needs, such as corrugated cardboard, white cardboard, gray bottom whiteboard, kraft paper, etc.
Yes, we support multi-color printing, including CMYK printing, PMS printing, etc., and special customized services such as bronzing, embossing, etc.
Yes, if you don't have your own design team or need professional design advice, we have a professional design team that can provide you with custom design services.
Learn more about PACKINGWAY® through video
Our R&D team has strict quality assurance process and timely rectification when needed. We have an experienced professional team to sell, design, manufacture and provide customized solutions.
Bakery packaging solutions tailored to your industry
We do things a bit differently, and that's the way we like it!
"We keep moving forward, opening new doors, and doing new things, because we're curious and curiosity keeps leading us down new paths."
Walt Disney